Bonnet Névé counter fridges dedicated to the frozen departments for Retail: design and attention to the environment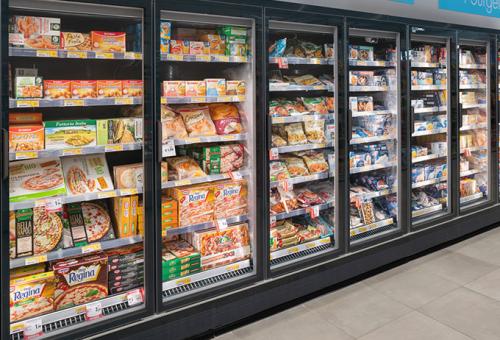 The sector of frozen products in the retail world is continuously transforming and growing. In recent years, the key purchase drivers have included:
the need to eat

healthy, safe products

with a

high nutritional content

sustainability

waste reduction
These are the key factors which affect the evolution of the sector, and consequently, the organisation of the aisles. Indeed, greater attention of retailers has been recorded for increased care in presentation which is attentive to the environment.
The goal is to convey the new value of frozen products and to elevate the entire product category, which is constantly expanding. This is also due to the introduction of new lines such as those for specific, organic, vegan diets and for breakfast.
Counter fridges for frozen products designed with an eco-friendly approach  
Frozen products are arranged inside furniture that merges technical and aesthetic features designed to attract the eye of the consumer and characterised by maximum sustainability.
Tangible examples are the transparency of the low emission glass doors, LED lights that enhance the packaging and the minimal lines which ensure the focus on the quality of each product. Another trend worthy of note is the establishment of the principles of the circular economy and the importance of Eco-design.
Enhance the presentation of the product and reduce polluting emissions: the supermarket of the future takes life with the counter fridges for fresh products and deep freezer islands branded Bonnet Névé
Epta, thanks to its in-depth knowledge of the international market, has identified in advance the trends which are establishing themselves today. For this reason, it proposes complete ranges of counter fridges branded Bonnet Névé which respond to the new needs of the store.
The focus of the offer is the enhancement of the products and an approach based on sustainable innovation. Epta, to respond to this double challenge, constantly widens its SkyEffect and MultiCity Bonnet Névé family. They are, respectively, ideal for large and small stores.
They are counter fridges able to give an exclusive atmosphere to the frozen departments, to guarantee maximum efficiency and the reduction of emissions, thanks to the glass doors and to the choice of natural refrigerants with a minimum GWP.
Furthermore, perfect alignment between the models of the same family and the possibility to merge them to create infinite compositions ensures absolute display consistency.
Ingenious configurations rhythm the space thanks to the alternation of heights and improve visibility of the products, each positioned inside the furniture most suited to increasing its appeal.