EPTA FOR THE NEW ERA OF DISCOUNT STORES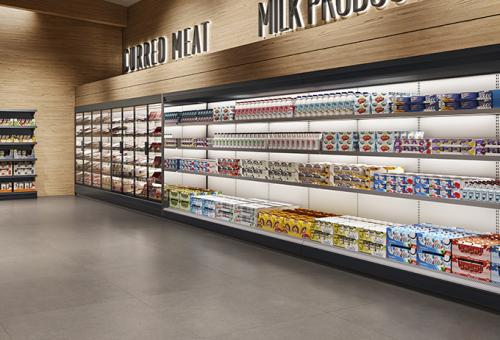 Epta, with its recent innovations Arcade/Avenue and GranBering Integral Ultra/SkyLight Integral Perform branded Costan/Bonnet Névé, guide the new era of the Discount channel, one of the most dynamic and evolutionary formats of the Large-Scale Retail sector, increasingly more relevant in the European Retail Sector.
Discount supermarketization
In the last twenty years, Discount stores have been the protagonists of a deep transformation towards an increasingly soft formula, known as "supermarketization". This has to do with a repositioning conceived to promote a different perception by consumers, thanks to two key elements: greater attention to merchandising and wider assortment, with excellent value for money.
In this regard, there is an intensified presence of fresh products, essential to build customer loyalty and an increase in the lines proposed, which feature premium and organic. An increasingly variegated range, enhanced in the best possible way with strategies to communicate a positive atmosphere of the store, increasing its attractiveness and user basin.
Epta interprets the new identity of Discount Stores
In this transition, Epta interprets the new identity of Discount stores with Arcade/Avenue, the new vertical product of the Fundamenta / LeBlock family which features maximum flexibility:
In terms of temperature, to store different categories of products, from dairy products to ready-made pastas, to cured meats;
In the choice between the CO2 remote version and the Integral with R290.
In the possibility of opting between the closed version and the open one, convertible by fast retrofitting.
Arcade/Avenue allows to outline display policies of fresh products that are even more profitable, whilst guaranteeing an increase in performance between 12% and 22% compared to previous models.  
GranBering Integral Ultra/SkyLight Integral Perform makes the frozen department "cool"
GranBering Integral Ultra/SkyLight Integral Perform makes the frozen department "cool", one of the key areas of Discount stores. Among the best-in-class in Energy Labelling, the excellent performance of GranBering Integral Ultra/SkyLight Integral Perform position the furnishing in class B, a tangible expression of the commitment of Epta to achieve increasingly high efficiency.
The cabinet offers more than 30% lower energy consumption than the previous generation thanks to the compressors equipped with inverters, a new system of hybrid defrost and a frame realised with cutting-edge materials and systems.
The refrigerated cabinet is now available in the 5-door configuration thanks to the triple refrigeration circuit signed Epta. The strong point is the Integral concept, which guarantees simple installation, quick start-up, and minimum maintenance costs.