LineON, an innovative solution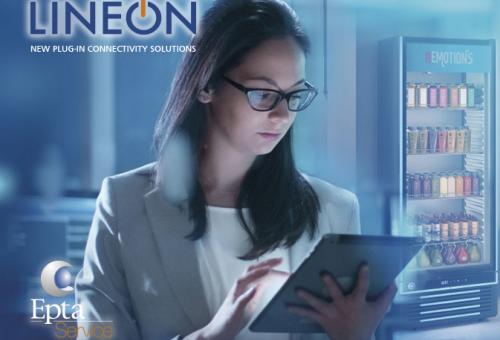 EptaService is an Epta brand specialised in after-sales assistance and consulting, which innovates the refrigeration sector with the original LineON digital solution. This 4.0 evolution is dedicated to the Iarp, Costan and Bonnet Névé plug-ins. 
Servitization, the new watchword of Epta 
Technology is transforming consumer habits in the current panorama. "Servitization", understood as the integrated offer of products and services, is the new frontier for the Food&Beverage and Ho.Re.Ca. sectors 
EptaService provides a customisable system for the Iarp, Costan and Bonne Neve plug-ins to satisfy individual needs. LineON is based on advanced connectivity and allows access to a vast range of services. 
Electricity consumption monitoring and more 
The system is designed to guarantee constant monitoring of electricity consumption and numerous parameters, such as temperature and level of humidity. The goal is to ensure the maximum quality of products, less maintenance work and increased efficiency. All H24 and completely remote.
LineON also avails of the feature of geolocalisation of plug-ins, against attempts at theft. To support marketing, it provides reports and information related to sales in the single counters.
The features of LineON
LineON is available in three different modes: 
New Equipment, i.e., with technology already incorporated during production and direct access to services. 

Ready to Connect, with IoT services readiness during production, in favour of a simple subsequent activation. 

Full Retrofit, i.e., to equip plug-ins already installed with a specific accessory box. 
Marketing tools to support the retailer 
LineON is an effective marketing tool because it analyses sales and tracks the habits and preferences of consumers. This allows, for example, to choose the best places in which to position the refrigerated showcases and achieve greater success. 
Thanks to LineON, the operators of the Ho.Re.Ca and Food&Bev sector, can make use of a solution which is truly complete and have precise feedback regarding the performance of the refrigerated furnishings.