PROMOTIONS HAVE A NEW FLAVOUR WITH COLLAGE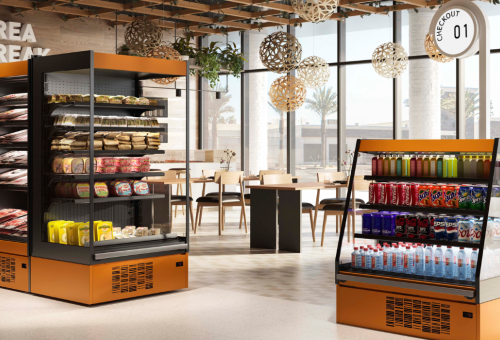 Promotions have a new flavour with Collage, the range of plug-in refrigerated cabinets of Bonnet Névé, brand of the Epta group, which adds a touch of taste to the store. There are three models: Tempera, the closed vertical cabinet, Pencil, the open version and Ink, the semivertical open cabinet.
Wellness is top priority
Wellness is top priority for 2023 and this is reflected in a study conducted by NielsenIQ and presented at Cibus 2023. The analysis highlights how wellness is the priority for Italian customers today.
The search for the so-called "Good for me" is reflected on one side in protein foods and snacks and on the other in promotions, a range of products which, strategically studied by Retailers, helps boost impulse purchases and increase store profitability.
Epta focuses on the promotional lever
Epta focuses on the promotional lever with Collage, the new line designed to furnish supermarkets and hypermarkets, ideal for the small surfaces of proximity stores and service stations. The multiple strong points are:
Refrigeration performance in class 3M0, for Tempera and 3M1, for Pencil and Ink, which make the cabinets suitable for the preservation of different product categories, such as prepacked meat and fish.
A captivating look, thanks to minimal lines and LED lighting, to best enhance products and advertising graphics.
A Total Display Area (TDA) increased by 20% compared to previous models, guarantee of empowered merchandising to display a larger number of products on a maximum of 5 shelves of the same size.
Customisation of the interior and exterior elements of the cabinets, with the option of decorating them with advertising messages, depending on the sales needs.
Last, but no less important, is the possibility to integrate the LineON digital platform of EptaService, under the banner of non-stop connectivity.
Collage, previewed at Euroshop 2023, ensures excellent food visibility, and reduces the carbon footprint of the store. The range is available exclusively with natural refrigerant propane R290, in harmony with Innovation Reloaded of the Epta Sustainable System. One of its fundamental cornerstones is respect for the environment.