Refrigeration for more sustainable shops: Epta takes care of it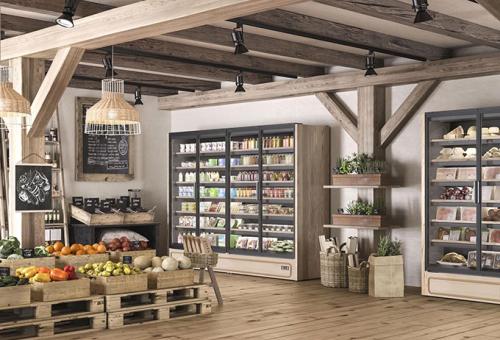 With the pandemic the new trends look to a healthier lifestyle, starting from a healthier diet. In this scenario there are stores dedicated to organic and 'healthy' products, perceived by the buyer as healthy and respectful of the environment. Leader in the field of commercial refrigeration, Epta proposes a complete range of refrigerator cabinets to store and display organic products.
The commercial display refrigerator most suited to organic products is branded  Bonnet Névé
The organic trend is gaining ground internationally, above all in North America and in Europe. Here, in 2021, the sale of organic products reached 37.4 billion euros, +18% compared to 2018*.
Epta is ready to support Retailers to meet the challenge of the organic sector, thanks to its ad hoc solutions branded Bonnet Névé.
More attentive and demanding than in the past, today's consumers are increasingly in search of quality. Their purchasing habits move towards more responsible consumption. Retail brands are called upon to make sustainability a strength.
To respond to the new demands of retailers, Epta proposes specific commercial display refrigerators, designed to reach a public who is more sensitive to environmental issues.
Vertical refrigerated displays and refrigerator cabinets as a promotional tool for the organic sector
The refrigerator cabinets branded Bonnet Névé are best in class under the Energy Label regulation.
Furthermore, they merge performance and environmental sustainability thanks to numerous technical-design solutions, such as the choice of propane R290 as natural refrigerant and full-height glazed surfaces.
The vast offer features the vertical refrigerated displays MultiFresh Bio and MultiFreeze Bio branded Bonnet Névé.
These models are characterised by wood-like finishes for the exteriors, designed to adapt perfectly to the layout and to the typical style of the stores or to the corners dedicated to organic products.
An ideal feature also inside supermarkets, they are also ideal to enhance the presentation of the organic products and strengthen their eco-friendly message.
Thanks to their characteristics, these solutions transform into an excellent promotional tool, both inside the stores of Bio Food and Organic Food and in corners of Mass Retailers dedicated to these products.
*Data presented during the April 2022 edition of FruttiLogistica in Berlin