Refrigeration pack by EptaTechnica: modularity and efficiency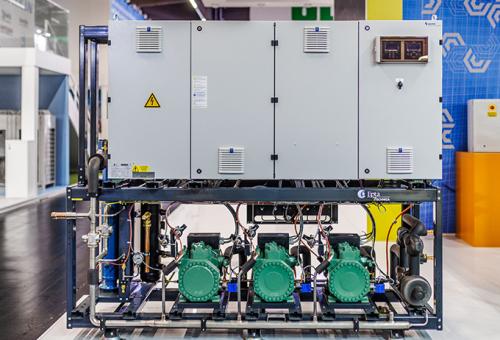 EptaTechnica, with its new Eco2Middle refrigeration pack, completes the Eco2Small and Eco2Large series.
Previewed at Chillventa, the new technology focuses on customer needs and the environment, as well as the advantages of modularity and industrialisation.
Innovation and sustainability during the whole life cycle
In 2022, the industry is called upon to respond first and foremost to two important needs:
to differentiate products and services

in order to meet individual customer needs with high quality standards;

to reduce costs and increase efficiency in production and distribution.
Not only that. In the 21st century, the only companies that can truly be defined as forward-looking are those that include technological innovation and sustainability in their strategic planning.
All these goals are reflected in a solution that is feasible, safe, economical and eco-friendly: product modularity.
This approach presupposes the possibility of breaking a unit down into standardised parts – modules – and assembling them according to application areas.
There are two main benefits: an industrialised offer conceived as customised and highly differentiated. No less important, disassembly of components with well-defined characteristics facilitate recycling and both maintenance and repair operations by extending the useful life of the unit.
A CO2 transcritical refrigeration system
It goes without saying that counting modularity as one of the main characteristics of a pack means talking about a product that is both standardised and able to offer numerous customisation options.
Eco2Middle is available with 3 or 4 compressors for medium temperature applications and up to 3 compressors for low temperatures. In other words, flexibility for a wide range of contexts.
Together with Eco2Small – concentrated power designed for indoor and outdoor installations in smaller shops – and Eco2Large – maximum efficiency and reduced consumption for larger shops – this new power station completes the range, offering the ideal solution for medium-sized stores.
Based on CO2 transcritical systems and ensuring a reduced carbon footprint, this range also ranks among the most innovative technologies in relation to their environmental impact.
In short, EptaTechnica, in line with the most stringent international environmental regulations, is a winning ally in the game for sustainability as well as a garantee in the development of new, customised and eco-friendly systems for the entire HVAC&R sector.
It proves, once again, that innovation comes from resourcefulness and simplicity: mass production has never been so revolutionary. With Eco2Middle, the standard becomes exceptional.