EPTA DEFINES A NEW CONCEPT OF VERSATILITY WITH PROFILE SLIDING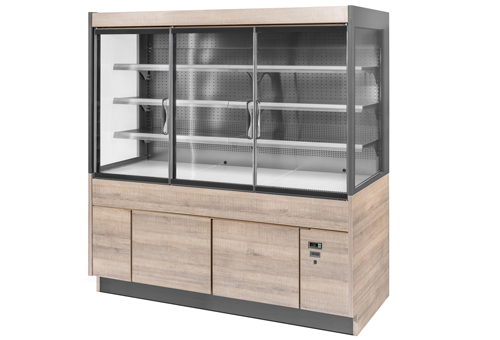 EPTA DEFINES A NEW CONCEPT OF VERSATILITY WITH PROFILE SLIDING
Epta defines a new concept of versatility with Profile Sliding, the rear cabinet, part of the Mozaik range of CBonnet Névé, available in a closed version from today, with sliding doors. It is designed to present fresh products, such as sliced meat and dairy products, able to ensure high performance, correct preservation, and practical use.
Cured meat and cheese: the biggest sellers in the large-scale-retail trade sector
According to data provided at Fiere Parma Cibus, during 2022, cured meat and cheese were confirmed the biggest sellers in the large-scale retail trade sector. In detail, the first category recorded a turnover of 5.5 billion euro, 58% from variable weight sales, and 42% from imposed weight. It was also a positive year for cheese, strategic for winning over customers, increasing by 18.2% in the discount sector.
An empowered rear cabinet
Epta further empowers the Profile rear cabinet, integrating the closed model with sliding doors already existing in the open and closed versions, with hinged doors. The solution preserves the quality of the assortment on display and is also designed to ensure best visibility thanks to LED lighting integrated into the uprights.
In addition, the cabinet is equipped with a reserve, refrigerated or not, positioned at the base of the cabinet, where the products can be stored, with a double benefit: optimisation of space, becoming ideal also in small surfaces and ergonomics of the cabinet designed to provide operator comfort.
Finally, in perfect harmony with the Mozaïk range, Profile Sliding also features a significant level of customisation: the Retailer can choose between two heights (2000 mm and 2300 mm) and a vast range of colours, materials, and textures.