Taste and genuineness come first with the SkyLight Integral Perform display refrigerator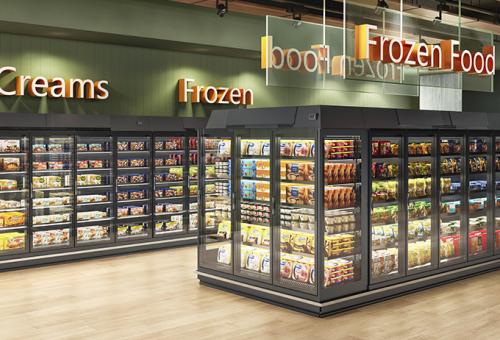 Freezing is part of our daily lives and is synonymous with quality and convenience for food consumption.
But where does the idea of freezing foods come from?
Many imagine – but few know – that to surprise and inspire the American Clarence Birdseye in 1928 was precisely the texture, but above all the taste, of those foods preserved by the Eskimos in Northern Canada.
The practices used by these people succeeded in maintaining their freshness as no other technique known until then in the USA.
Freezing: a true revolution for proper nutrition
Frozen foods are starting a new era after almost a century of history. Long-lasting, safe and traceable, they are above all tasty and healthy. No preservatives. Freezing is synonymous with genuineness and authentic flavour.
It doesn't end there.
The development of production and preservation technologies of these goods allow us to overcome the seasonal nature of the raw materials, preserving their nutritional properties and organoleptic characteristics.
This means a varied and balanced diet all year, in line with the recommendations of all the nutritionists and the growing attention of consumers towards increasingly proper culinary habits.
In the case of Discounts, for example, this category of products – symbol of wellness and quality – has become one of the core areas. The numbers speak clearly: 4.7-billion-euro turnover in 2021, and more than 23% derives precisely from frozen food.
A step forward in industrial refrigeration with the SkyLight Integral Perform display refrigerator
Epta shows its farsightedness and launches the negative Skylight Integral Perform display refrigerator branded Bonnet Névé.
A solution which also restores life to the new Soft Discounts, increasingly emblematic of a careful selection and a vast quality assortment, with the contribution of the variety of frozen products.
Design and energy efficiency of the new vertical display refrigerator branded Bonnet Névé
Epta guarantees important benefits, both in terms of energy efficiency and layout of display space.
The new vertical "plug and play" display refrigerator completely integrated and using R290 propane, as well as standing out for its simplified multiplexing, positions itself in class C, which means best-in-class in accordance with the Energy Labelling regulation.
It is a guarantee of up to 30% energy saving, with the contribution of the new hybrid defrost system and the compressor equipped with inverter.
From the design point of view, Skylight Integral Perform revolutionises the frozen food area, enhancing food appeal.
The led lights, the vast palette of colours available for the interior parts, the seven rows of shelves as well as the number of doors increased from 2 to 5, give the right value to the products. Furthermore, the consumer is given an immersive purchasing experience in the store and an equally tasty and genuine experience at home.